There are many kinds of gummy bears, and various gummy bears are prevalent globally, both at home and abroad. The development of gummy bears also has a very long history, having existed for a long time, where did gummy bears come from, and how was it made?
Gummy bears should first originate in Germany and then slowly developed to various countries, and there are many imported gummy bears in our market. Today, the candy industry in all countries is growing very rapidly, and China is no exception. With the hot sale of candy, people's demand for gummy candies has increased, and there are more and more candy processing plants, which also drive the development of related industries.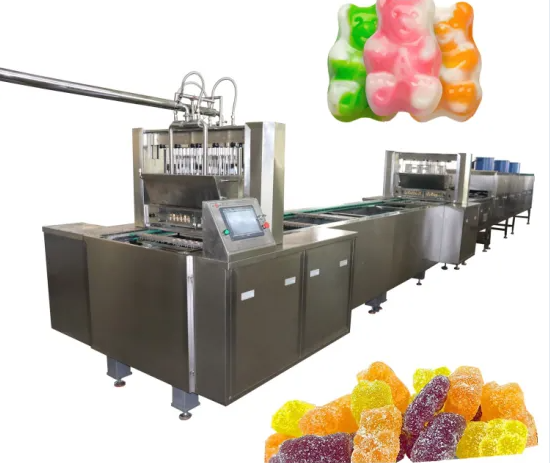 Our company is a professional manufacturer of food processing machinery. As shown in the picture, this is a new type of gummy bear making machine that we developed and manufactured based on our previous experience, after listening to customers' opinions and analyzing the market situation, which has many advantages and is more advanced than the last candy making machine.
Advantages of gummy bear machine:
1, Superior quality, easy to operate, reliable working, and high output.
2, Automatic deposition/forming of jelly syrup into the mold, then automatic cooling and demolding.
3, PLC and touch screen provide the latest technology for programming all controls and operations.
4, Servo system for more accurate deposition quality control and change two colors or different types of fillers.
5, High-efficiency work can get more profit, save labor and prolong machine life.
Process flow of soft candy production line:
Sugar dissolution→filtration→sugar pot→cooling→flavoring→deposition molding→cooling→mold→drying room→packaging
The fudge processing line is advanced continuous equipment for producing different kinds of candies, commercial gummy candy machine consists of an electric sugar pan, cooling table, heat preservation roller, drawing machine, forming machine, cooling sieve, and packing machine, which can produce different shapes, different flavors and various colors of candies. The whole production line is electrically integrated and controlled, easy to operate, ideal equipment for small and medium-sized candy factories.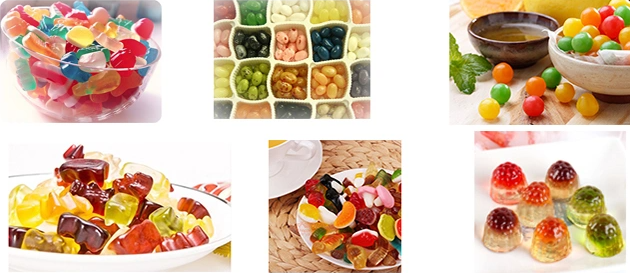 We are also one of the leading professional exporters in China. Besides candy production lines, we also supply high-quality chocolate production equipment, cookie-making machines, and packaging machinery to domestic and foreign customers. Our machines have been exported to Eastern Europe, South America, Middle East, and Southeast Asia. As a first-class confectionery, chocolate, cookie, and packaging machinery manufacturer, we provide competitive and economical advanced equipment and offer total solutions for our customers' needs.
After-sales service:
1, Free warranty for 12 months from the date the buyer receives the machine.
2, Confirm the type of machine: Consult with the customer and choose the correct machine according to the customer's requirements.
3, After confirming all details with customers, such as payment terms, model number, delivery time, send official quotation to customers.
4, When the equipment arrives at the customer's factory, send engineers to install and make sure the customer knows how to operate the machine.
5, To improve our products, we keep close contact with our customers to get their feedback and suggestions.
No matter what your production requirements are, we have the right solution. We offer different types of machines to meet your needs for flexibility and speed. We offer swinging, disposable, servo-driven pouring types for center-fill fondant and striped fondant. If you are interested in our machines and need this area, feel free to contact us or visit us at the factory, we would be honored.