But cute and weird, Gummy Bear is your favorite. In daily life, there are countless casual snacks, and everything is available. Gummy bears are one of them. They are suitable for all ages and are loved by consumers. They are very popular in the market. So, have you ever considered how this sweet and sour, delicious fudge is made? how to make gummy bear candy?
The production of gummy candies is actually very simple. You can make them yourself or process them. If you are self-made, you only need some simple materials. If you are interested, you can refer to some tutorials on the Internet to make soft candies that meet your own taste at home. sugar. The soft candies we usually buy are usually processed and produced by candy processing plants. The following mainly talks about how the soft candies are processed in the industry.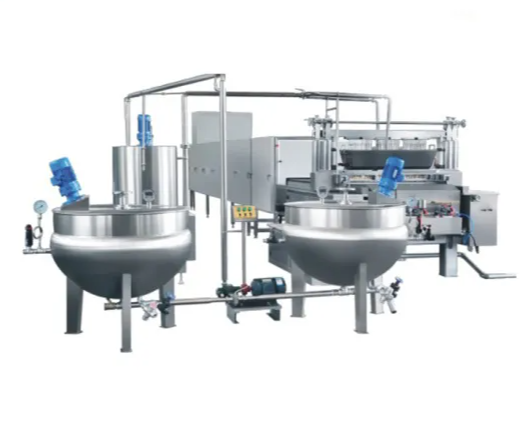 As shown in the picture, this is the gummy bear machine specially used to produce soft candies in industry. It is an advanced continuous production equipment that produces candies of various shapes and colors. The production line is mainly composed of dissolving tank, storage tank, precipitation machine, cooling machine, sugar coating machine (optional), polishing machine (optional). It is suitable for the production of various materials, such as gelatin, pectin, carrageenan, gum arabic, etc.
Features of gummy making machine:
PLC/computer process control is available.
LED touch screen, easy to operate.
High degree of operation automation and high degree of intelligence.
Made of stainless steel, the whole machine has stable transmission and reliable performance.
Convenient cleaning and maintenance, high thermal efficiency and convenient use.
By changing molds and raw materials, candies of different shapes, colors and flavors can be made.
Process flow:
Sugar and carrageenan/gelatin/pectin dissolution → mixing → cooling → transportation → deposition → cooling → demoulding → packaging
The gummy bear making machine is specially designed for making soft candy with one or more colors. The equipment has a high degree of automation, which saves time, labor, space, and reduces production costs. It has advanced technology and simple and convenient operation. It is an ideal equipment for producing high-quality candies. It also meets the needs of candies processing plants and can bring higher economic benefits.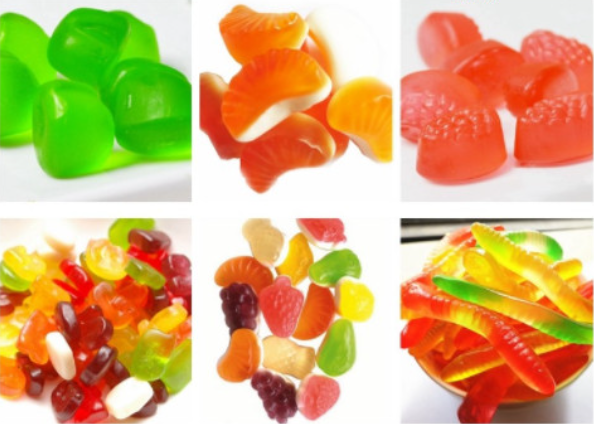 We are a modern enterprise specializing in the research and development, manufacturing and sales of confectionery machinery and baking equipment. We have strong technical force, sophisticated equipment and advanced technology. Our products are sold all over the country, exported to Russia, the Middle East, South Asia, South America and other countries and regions, and are deeply loved by new and old customers at home and abroad. We will use high-quality products, efficient and professional pre-sales and after-sales services to repay everyone's support.
After-sales service:
Provide equipment installation and debugging guidance.
Provide special training to workers so that they can better master the operation and maintenance skills of the machine.
Permanently provide equipment accessories, reasonable price and fast delivery.
Can provide you with a complete candy production line and technical solutions.
The product is within the warranty period or the permanent warranty beyond the warranty period, and quickly responds to the machine malfunction reported by the customer.
Our after-sales service is very high-quality and in place. If you buy a soft candy making machine or any other equipment from us, we will provide you with the most thoughtful and considerate service. In addition, our prices are also very reasonable. You can't afford to lose, and you can't be fooled. Trust us, choose us, and let us go hand in hand!